Efficiency is intelligent laziness.
What is 3ML?
What do I do?
I help schools and businesses to realise their goals by enabling everyone to use ICT effectively and creatively, to save time and to enhance outcomes for all.

Why do I do it?
As a teacher, parent and concerned global citizen, I am excited by the possibilities offered by technology to solve some of the challenges we face in our society and on our planet. I am convinced that education plays a pivotal role in this and without seamless links between education and technology, we are unlikely to get the best possible outcomes.

How do I do it?
I use cutting edge change management strategies, coupled with high quality, personalised, professional learning sessions for learners . In addition, I combine these with enhanced, technical optimisations, in order that all devices work seamlessly for all learners, all of the time. When I work with teachers for example, they embrace new ways of working, not because they "have to", but because they "want to", because the other aspects of learning with ICT (that have often tripped people up, in the past) have been taken care of.

Who is 3ML?
Martin Hughes has created 3MLearning, in response to a growing and ongoing need in our schools to align and realise their goals with their teachers, students, communities and technologies. As a teacher, Martin's passion is working with learners of all ages and stages, to make the use of ICT in schools a seamless, creative and motivating experience.
Martin has been working in schools all over NZ and beyond for the last 15 years, and delivers professional learning experiences that are Meaningful, Memorable and Motivating. He has a relentless focus on developing and sharing strategies that make success for student and teacher alike, inevitable – he does this by simplifying complex tasks, linking the possibilities that technology can offer schools directly to (school and learner) goals and by supporting teachers to be the very best they can be. He firmly believes that technology should be working for learners, not vice versa – and every strategy he shares with schools demonstrates this.
He particularly enjoys working with schools so that their ongoing and significant investments of both money and time into ICT translate through into enhanced learning experiences and capabilities for everyone.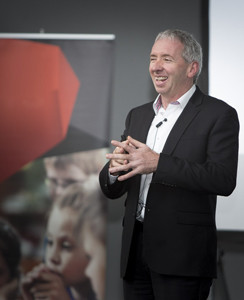 Why 3ML?
Everyone wants better outcomes for students – and most people believe that professional learning has a large part to play with this. However, unless professional learning really connects well with teachers so that it feels "Meaningful, Memorable and Motivating", our capacity to support teachers to achieve our shared goals, is undermined.
I have always loved the number 3 – people seem to remember things in 3's and so I teach in 3's.
Having any device work for anyone within 3 clicks, for example, regardless of device or physical location, overcomes many traditional tripping points, for teachers and students. Here are some other examples:
3

Teaching Strategies
Differentiation, Scaffolding, Feedback are my 3 favourite teaching strategies and I use them in my teaching and I support teachers to use technology effectively to do the same.
3

Ecosystems
Many schools have a mixture of devices and ecosystems (Google, Apple, Microsoft) these days and I am equally comfortable with all of them. I share strategies to ensure that they all work seamlessly together.
3

Stages of School Adoption/Development
Taming the technology, Taming our admin tasks/processes and then developing and embracing new pedagogical techniques.
3

Apps to Start With
Most learners need to become very comfortable with Mail, Drive and Calendars, so that they all work seamlessly regardless of device or physical location.
3

Groups of People to Start With
School leaders, School teachers, Admin and support staff – each person and each group of people have differing needs and priorities and they enjoy the most success when I work with them separately.
Services
Schools, Kura and Kāhui Ako
Martin continues to work with many schools all over New Zealand – a certified Google and Apple trainer, he is also accredited with MoE and can access central funding for his work and associated travel (when pre-approved by MoE), when Schools/Kura/Kāhui Ako make successful applications to do this.

Businesses
Martin also works with small to medium businesses – empowering staff and improving processes, so that significant amounts of time and money can be saved.

Parents and Whanau
Parents, Guardians and Whanau have been simultaneously excited and challenged by the impact of mobile devices on the day to day behaviour of their children. Martin regularly runs workshops to support parents in this area, so that school, parents and children can be aligned in their expectations and behaviours with technology.

Services Include:
Professional learning | School audit for learning | Certified Google Apps (G-Suite) trainer | Managing video and images across devices/locations | LMS training | Appraisal tools/processes | Document and resource development and management | BoT training | BYOD optimisation | Working with other services and providers | Working with students and communities | Working with support staff – Admin, RTLit, RTLB etc | Enhancing alignment of goals, people, technology, strategies and planning | BYOD deployment and planning
Testimonials
Martin challenges us not to only think about how we use ICT but why we use it?
Martin's personalised approach ensures staff buy in and generates huge engagement.
Martin's additional focus on reducing screen-time whilst raising expectations around learning has resonated well with our community
Martin's approach has challenged us to raise expectations of our systems, technologies, colleagues and students.
By ensuring 'early wins' in terms of increased competency and effectiveness, this provides a launching pad for focussing on ICT as a tool, and a means to enhance confidence in using it to support teaching and learning, as well as enhancing personal productivity at work.
Contact
Martin Hughes
Educator
www.3ml.nz
Feedback Form
If you would like to give feedback on the services I provide, please use the link below. All comments are much appreciated.